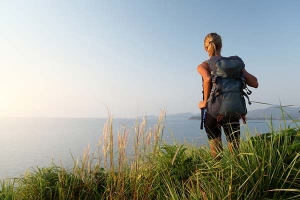 We have walks over sand dunes, on beaches, through forests and woods, around cliff tops and over heather bogs within a few kilometres of Wild Atlantic Camp.
Here are five of our favourite walks
1. Duntally Wood
This beautiful ancient wood of deciduous trees borders our camp site and is a magical place for faerie spotting and bluebell counting.  The wooden bridges are great to trip-trap over and the path is perfect for buggies.  The three mile round trip from the camp site takes about an hour, depending how long you allow for discovering.
2. Ards Forest Park
Spanning 1,200 acres you could spend all day in this Coillte managed forest park.  Trails are well managed and clearly marked and take in the salt marshes, sand dunes, woodland paths, lake walks and forest trails.  The boardwalk route is a wooden path through the sand dunes suitable for buggies and wheelchairs. The many little beaches and coves revealed at low tide hold their own against the larger Lucky Shell beach at the northern most tip of the park.  There are two coffee shops, one in the main car park and one at the Ards Friary.
3. Muckish Mountain
At 666 metres high Muckish Mountain is not the biggest in Donegal but it's distinctive shape means it is one of the most recognisable. Named after a sleeping pig (Muckish, mucais in Irish, means pig back) it is said to resemble the mountain is no longer a working mine although along one of the two routes to the top, the Miner's Path, you can still see relics of the mining equipment abandoned once the quarry closed after World War II.  The flat top resembles a rocky lunar landscape and is the size of three soccer pitches while, on a clear day, the views are stunning.
4. Horn Head
There are two looped routes round Horn Head and both of them require a bit of stamina.  The 5 km road route is quiet enough to still be a pleasant walk and is suitable for buggies, although steep in parts.  There are plenty of view points to rest but no facilities along the way.  Alternatively, and more strenuously, you can walk over the sand dunes to Tramore beach before following the marked route, past Mc Swyne's Gun, on to Pollaguill Bay and Marble Arch and then on to Horn Head itself.  Read what Rough Guides says about this walk.
5. Marble Hill beach
One of the best family friendly beaches around due in part to its blue flag status and shallow beach shelf that makes for safe swimming, boogie boarding and paddling.  When the tide is out there's a lot of beach to play on and a good stretch of the legs can be had by walking from one end of the beach to the other, a distance of about 2 km.  In high season there are two refreshment huts so you can grab a coffee while you watch the hardy surfers catch a wave.