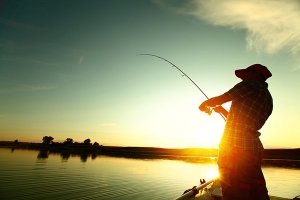 Creeslough is a great destination for visiting anglers.
A warm and friendly welcome is guaranteed from the Creeslough and District Angling Association who are based in the village.
Shore fishing (rock, beach and pier) is also available from the Ards Estuary which Wild Atlantic Camp overlooks and charter boats are available. River fishing is available from nearby Lackagh River, which has a Salmon run in February and March.
There are three fishing lakes around the village:
Lough na Toohey is a 15 acre stocked Rainbow Trout fishery about a three minute walk from the camp site
Roosky Lake is a 12 acre Brown Trout fishery in the hills about 1.5km from the camp site
Glen Lough, about 5km from the camp site, holds Salmon and Sea Trout during season and is part of the Lackagh River and Owencarrow River system.
Day permits and licenses can all be bought locally.