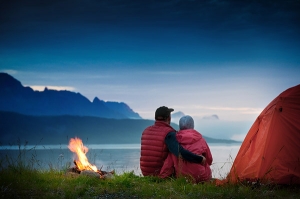 Those who appreciate nature know that spending time unplugged and off line can be a true break.
Wild Atlantic Camp is a great place to do that.  Here are some ideas how you could celebrate with us.
Couples
If you're celebrating a special occasion or just in need of a bit of quality time with your significant other our Just for Two wooden pod is a perfect place to stay while you do that.
Children's birthday parties
Our astroturf, pitch and putt and playground are great outdoor activities to arrange a children's party around and The Den is a perfect indoor retreat if the weather doesn't play ball.  Throw in an optional night in a wooden pod and a fantastic birthday party is complete.
Families of all shapes and sizes
We can accommodate groups of campers in the wooden pods or you can pitch your own tents together.  Two of the wooden pods are located together with a shared fire pit to make communal marshmallow toasting possible.
Hens and Stags
We're happy to welcome groups of grown up Hens and Stags to Wild Atlantic Camp to celebrate forthcoming nuptials at any time of year.  We can suggest  activities to do and even arrange them for you.
School Tours
We have the space and accommodation for a School Tour with a difference.  Who's up for a  guided nature walk through Duntally Woods, an introduction to bushcraft and campfire making skills, story telling round the campfire and a lesson in star gazing, all topped off with a overnight camp in a pod or in tents?  Imagine your eight year old self doing this – wouldn't you love it?  We can arrange the tents and activities for you.
Please contact us to discuss how you can celebrate with us.